Hey Friends! Thanks for stopping by to find out more about the books I have written. I am loving this phase of life and the freedom that I am finding as I slow down a bit in my physical therapy career. I have worked as a pediatric physical therapist for 38 years throughout Southwest Virginia, where I have had the prividlege of working with many, many children and families. I have witnessed incredible joy as well as great loss. I have had many conversations with families as they have searched for meaning and the strength to carry on day after day. I have a deep love and respect for the hard-working people of Appalachia.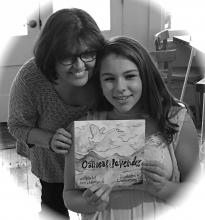 My writing journey began on a snowly Saturday afternoon in January 2017. As my granddaughter Riley's thirteenth birthday was approaching in March, I tried to think of a memorable gift for her. I wanted to give her something that would last. I remembered the days that I would pick her up from school to take her to piano lessons with Ms. Janet and then to AWANA at church. Riley liked for me to make up stories for her as we made the hour long drive from Honaker to Abingdon and then back each week. Sometimes we would share in the story telling, each one adding a few words, and then the next one to pick up there. I decided to write a story just for her that would speak to her now and in the years to come—life lessons about kindness and acceptance and friendship . . . so "Oatmeal & Lavender" was born.
The older I get, the more I realize that each of us is the summation of his or her life experiences, both good and bad. I believe all of us have a responsibility and endless opportunities to make a positive impact on those around us. Sometimes much may be required from us; but most of the time, it is as simple as sharing a kind word or a smile.